Breast Augmentation Chicago
Actual
Patient

Not a Model
Although some women are comfortable with having smaller breasts, others rely on padded bras that can help give the illusion of larger breasts. Breast implants offer a permanent solution to increase your cup size instead of relying on your lingerie. Breast implants can also restore fullness to breasts that have been affected by pregnancy and nursing, weight fluctuation or age-related changes.
What types of breast implant surgery are there?
Not feeling comfortable in your own skin can lead to intimacy issues and a lack of self-confidence. Because each woman has unique needs and concerns when it comes to improving the appearance of her breasts, Dr. Placik takes a customized approach to each patient's breast augmentation surgery in order to deliver the most beautiful outcome.
With this philosophy in mind, Dr. Placik offers two options when it comes to breast enlargement:
Breast Implant Augmentation: Whether your goal is for a modest or more dramatic change to your breasts, breast implants can give you the fullness and volume you desire. During your consultation, Dr. Otto Placik will help guide you through the many decisions that need to be made before getting breast implants, such as the size and profile of your implants, preferred implant, and incision placement, and whether saline or silicone implants might be best for you. Dr. Placik offers the latest breast implant types, including form-stable silicone implants, more commonly known as "gummy bear" breast implants.
Fat Transfer Augmentation: If you're interested in a natural approach toward breast enhancement or want more subtle results, you may be a candidate for fat transfer augmentation. In fat transfer augmentation, fat cells are removed from another area of your body (usually the abdomen) via liposuction and then fat grafting is used to enhance your existing breast shape.
Actual
Patient

Not a Model
What are the differences between saline and silicone implants?
Saline Breast Implants
Saline breast implants are filled with salt water. They come from the manufacturer unfilled and will be filled during the augmentation procedure, which makes them more flexible during surgery, and in fact there are some incision types that can only be done with saline breast implants. Also, because they come unfilled, they can be adjusted to meet your individual aesthetic goals, and even to adjust for asymmetrical amounts of natural breast tissue. The advantages of saline breast implants are:
Fill level adjustability
Surgical flexibility
Ruptures noticed quickly because saline is absorbed by body
Slightly safer
Silicone Breast Implants
The FDA has determined that the lawsuits surrounding silicone breast implants were largely a product of fear and had little basis in medical evidence, and therefore re-approved them for use in November 2006. Silicone breast implants are considered aesthetically superior, both visually and in their feel, to saline implants. They are unlikely to show rippling, and silicone gel is far more like natural breast tissue than saline solution. Because the implants come pre-filled to an optimum level, the implants never have fill-related aesthetic defects. The advantages of silicone breast implants are:
Aesthetic superiority
Factory-determined optimum fill level
Are there any disadvantages to silicone breast implants?
There are some disadvantages of silicone implants, however. Because silicone is not readily absorbed by the body, the implants do not deflate visually after rupture, since the silicone stays in the breast implant capsule. This means that women with silicone breast implants should have regular MRIs to make sure that the implant is intact. Research has shown that the MRIs are successful at detecting ruptures whether the implant is placed sub-glandular or sub-muscularly.
Gummy Bear Implants
A gummy bear implant is a newer type of shaped implant which is made of a strong cohesive gel that offers a tear-drop appearance that is very similar to the natural contour and feel of female breasts. As opposed to other options, a gummy bear implant keeps its place within the breast. Patients are usually able to avoid implant-replacement surgeries later in their lives with a gummy bear implant because they keep their shape as you age.
Breast Augmentation
Before
&

After
Implant Size (L): 590cc
Implant Size (R): 590cc
Height:
5'3
Weight: 125lbs
Before Bra Size: 34A
After Bra Size: 36D
Implant Size (L): 350cc
Implant Size (R): 350cc
Height:
4'11
Weight: 106lbs
Before Bra Size: 32B
After Bra Size: 36C
Implant Size (L): 550cc
Implant Size (R): 550cc
Height:
5'2
Weight: 106lbs
Before Bra Size: 34DD
After Bra Size: 34DD
View Gallery »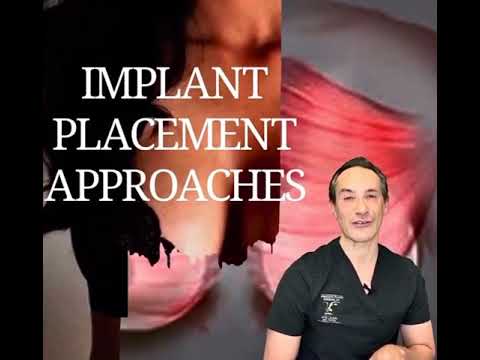 Which method of breast augmentation should I get?
No matter which method of breast enlargement will best achieve the results you envision, Dr. Placik will ensure that you have all the information you need to make the decision that's right for you. For some patients, Dr. Placik may recommend additional procedures that can complement the results of your Chicago breast augmentation, such as a breast lift.
Inframammary
(in the fold under the breast):
An incision, one inch (for saline implants) to two inches (for silicone implants) long, is made in the fold in the shadow under the breast (the underwire location). This is by far, the most popular incision for several reasons. It has been estimated to be used in 80 percent of surgeries. Through this incision, a pocket is made either behind the breast or behind the pectoral muscle for subglandular or submuscular placement of the breast implant. The implant is inserted into the pocket. In either instance, the implant is placed under the breast rather than through the breast and is less likely to interfere with the potential for lactation and nursing. This incision is best for silicone breast implants, which come from the manufacturer pre-filled and therefore require a larger incision for insertion. This incision makes for the shortest procedures and the lowest incidence of complications. There are many surgeons and scientists who believe that this results in the lowest incidence of contamination and a biofilm.
The only disadvantage of this incision is that there may be a noticeable scar under the breast. This would be especially true if there is no defined fold in the breast prior to the operation or there is no hanging of the breasts overlying the fold. In general, ninety percent of these incisions heal with excellent scars.
Periareolar
(around the lower border of the nipple/areola):
This incision is made at the margin of the pigmented portion of the areola and the skin of the breast. Pockets for the implant can then be made either behind the breast or behind the pectoral muscle. The implants are inserted and adjusted for symmetry. This incision produces almost universally excellent scars, meaning that healing is quick and scars are minimal. The periareolar approach allows for the placement of the implant either above or below the pectoralis muscle. This is another potential incision for use with silicone breast implants in patients with average size areola (3.5cm or more), because the incision is large enough to allow the insertion of the full implant. However, some physicians believe it may cause a higher risk of biofilm formation and subsequent capsular contraction. It tends to be preferred in individuals who are at higher risk for hypertrophic or keloid scar tendencies.
Breast Augmentation Incision Options
Axillary (armpit):
The axillary incision is made through a crease in the armpit. Occasionally, it requires the insertion of an endoscope, a long tube with a camera that allows Dr. Placik to perform the procedure with a very small incision when using saline implants. The pocket for the breast implant can be made in front of or behind the pectoral muscle. The advantage of this approach is that there are no scars on the breasts. This approach tends to be slightly more uncomfortable in the immediate post-operative period, and this approach is difficult to perform for silicone breast implants. A bad or hairless scar may be visible in bathing suits or tank tops.
Umbilical (belly button):
This is also known as the TUBA or Trans-Umbilical-Breast-Augmentation approach. A small incision is made in the belly button and a tunnel is made from the incision to behind each breast. The deflated saline implants are rolled up like cigars and passed up these tunnels. They are inflated, checked for symmetry, and the incision is closed. As with axillary incision, this approach has the advantage of not putting scars on the breast. The tiny umbilical scar is practically unnoticeable. Studies have shown that this procedure has a high level of satisfaction. Although there was an initial burst of enthusiasm for this procedure, it has subsided. Dr. Placik has stopped recommending this approach; He has corrected numerous TUBA procedures and has since abandoned the surgery.
Real Patient Testimonial
Dr. Placik and the staff made me feel very comfortable. I wasn't anxious at all because they are all so competent and knowledgeable and explain everything thoroughly. Dr Placik and the whole staff are highly experienced and also very welcoming I feel they are like family. My children say I look 20 years younger after my facelift, blepharoplasty, and fat transfer. I am very happy with the result and Dr. Placik is amazing!
Real Patient Testimonial
Dr. Placik and his staff are extremely welcoming and understanding to answer any questions you might have. I absolutely LOVED the doctor and his team, I knew I wanted a breast augmentation but was nervous because I never thought I'd go through with it. Dr. Placik and his staff were not only amazing, but made me feel so comfortable and secure. I went through with the procedure and the outcome was great! I have never been happier and only wished I had found him earlier. I absolutely one hundred percent recommend Dr. Placik to anyone looking to undergo plastic surgery.
Dr. Otto J. Placik, M.D., F.A.C.S.
Not being happy with the appearance of your breasts can be detrimental to your sense of femininity and self-esteem. Whether your breasts seem too small, not shapely enough, not perky enough or you want to improve the appearance of asymmetrical breasts, Dr. Placik can help. Breast augmentation with implants may be ideal for you if you'd like to increase your existing cup size, restore your figure to your pre-pregnancy silhouette, or bring back fullness following massive weight loss.
Dr. Otto Placik is a double board-certified plastic surgeon who performs one of the best breast augmentation Chicago has to offer. Having helped thousands of women accomplish their aesthetic goals, he has become a known leader in the field of breast enhancement and offers a wide array of surgical options.
Please contact us online or call our Chicago or Arlington Heights plastic surgery offices for more information on breast augmentation, including prices.
Visual Guide to Breast Augmentation
Breast Augmentation Surgery
FAQ
Otto J. Placik, M.D.
Reviews